In almost any area that invites comparison people want to know: "Who's the best?"
This goes for hotels, restaurants, manufacturers, and certainly sports teams. The embedded world is no exception. Except in the embedded world there is no contest or competition to decide a winner.
The Good
The embedded industry has a lot of good companies with very good products and a high number of very talented people. Software developers tend to enjoy working with development tools. You could say that this area of the industry attracts the best.
The Best
Who is the best?
This is a very difficult question where different criteria yield different results. And while it may be hard to prove who the best is, every other industry tries it: THE BEST movie of the year, THE BEST car in its class, THE BEST burger in town.
We don't typically declare our products to be THE BEST because it's hard to prove.
It should come as no surprise, however, that we at SEGGER firmly believe we are the best in our field. We believe our J-Link is the best, that Embedded Studio is the best, that our Flash Programmers are the best, and have volumes of data showing that the SEGGER RunTime Library is the best. We also believe that our RTOS & Embedded Software Solutions are second to none.
But it goes against our corporate culture to boldly claim things that cannot be 100% verified. (Which reminds me that we believe our SystemView – System Verification Tool is also the best. 🙂) In support of our products, we can always prove our results and often make the test procedures available on our website, like for our emCompress—Embedded Compression Libraries
And The Only
What about a claim like THE ONLY?
There should be only one definition of "only" and, accordingly, only one company should be able to make the claim that they "are the only one" or have "the only product" in a certain category. Like claiming to be "the first", there should not be alternate definitions or "alternative facts". But maybe I'm wrong … 🙂
In November 2017 SEGGER introduced Embedded Studio for RISC-V, a commercial tool chain with our usual friendly licensing, as detailed here: SEGGER Embedded Studio supports RISC-V architecture.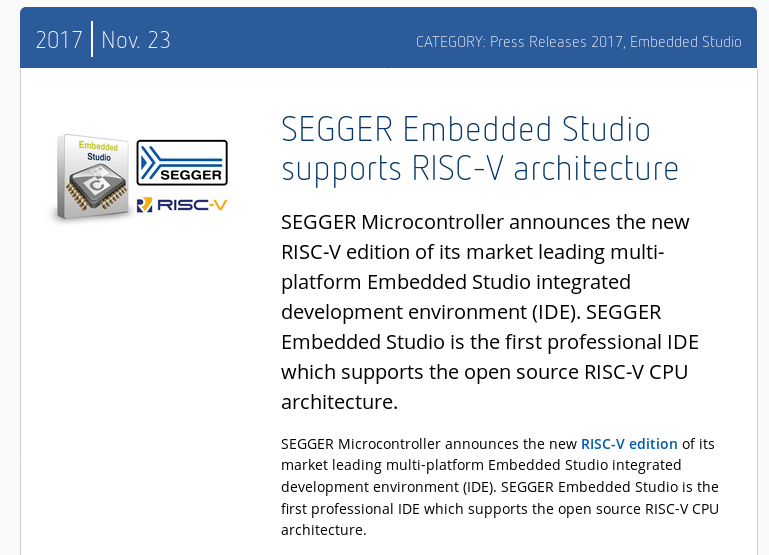 We believe it is a great product. We stand behind it, support it, and continuously advance it. People who use it to build commercial products need to buy a license. It is clearly a commercial tool chain for RISC-V.
On May 22nd, 2019 (about 18 months later!) another vendor claimed to be:

Strange …
We were THE FIRST commercial tool chain for RISC-V, which means we were actually THE ONLY one for a while. There can be different definitions of THE BEST but can there be different definitions of THE ONLY?
Another competitor claims to be "the safest RTOS vendor". This is clearly a matter of opinion, but the subsequent claim, to be "the only safe RTOS vendor", is quite a stretch.
Conclusion
We suggest that you pay close attention to claims like "THE FIRST", "THE BEST" and "THE ONLY". Ask for proof, ask for data, and if it is really important, ask for the test and run it yourself!
Tool & Software Library suppliers are vendors you have to be able to trust. After all, you are building a long-term relationship and using their products to build yours. You don't want to build on "alternative facts".
At SEGGER we let the quality of our products do the talking.
And we help out with an occasional blog article. 🙂